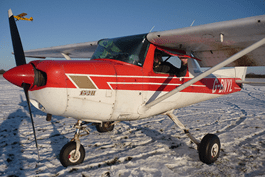 The sky is not the limit. Welcome to Haffenden Aviation.
Haffenden Aviation is a CAA registered facility providing first class aviation training at Headcorn Aerodrome in Kent. The Chief Flying Instructor John Haffenden is a career instructor having achieved a frozen Airline Transport Pilot's license which included the multi engine Instrument rating and a multi crew course on the Boeing 737. The other instructors are similarly qualified and care is taken to make sure that a student stays as far as practical with the same instructor, except for progress flights.
"John's expert tuition, calm reassuring manner and patience, coupled with his high level of professionalism and genuine love and enthusiasm for flying, were the perfect ingredients that enabled me to achieve a long standing ambition and learn to fly." - Mark Fosbery, PPL
Why Headcorn?
There is nowhere quite like Headcorn. This all year round grass aerodrome with it's effectively drained runway is usually the last to give in to adverse weather which is long after the other grass strips have closed. The location in mid Kent has excellent free airspace to conduct all the necessary flight exercises keeping flight times as low as possible including taxi time. There is no having to wait for take off because of a business jet on an 8 mile final approach. Easy to get to and welcoming, the airfield with it's air ground radio means that flight all decisions are made by the pilot making him a better and more independent captain early on in his or her training.
Learning to operate amid possible parachute, helicopter, aerobatics or balloons (not at the same time!) is all part of the journey and makes going on to an air traffic controlled airport easy.