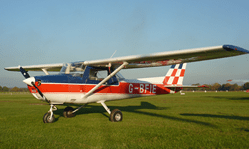 Trial lessons and Vouchers
Two seat aircraft for student weighing less than 14 stone. Either C152 or DR400 depending on height and comfort. (Please advise weight and height on application.)
Taster flight 30 minutes in a 2 seat aircraft. An insight of how it feels and the basic principles of controls. £100.00
Experience flight 45 minutes in a 2 seat aircraft More time to get to grips with the handling and if you live within 40 minutes driving time of the Headcorn you'll probably get a chance to fly over your house subject to airspace. £155.00
Student flight 60 minutes in a 2 seat aircraft. This is the normal flight duration for an individual keen to learn and move forward towards their pilot license. This achieves Exercise 3, and 4 of the PPL syllabus and is a good indicator of potential. £200.00
Plus one lesson The CAA allow a family member of suitably interested party to accompany the student in the back of the aircraft to share the experience and see how well the would be pilot does! This can be a lot of fun for both and an opportunity to take pictures. Please call for availability and prices. (Please consider this persons resilience to air travel before purchase.)
A larger more powerful four seat larger aircraft is used (C172 or PA28) for this and for 'solo students' over 14 stone or 6'3". for the student, instructor plus only one additional person who has an interest in the student's performance is permitted to fly in a back seat.
30 mins - £130
45 mins - £175
60 mins - £225
The type of aircraft depends on availability and suitability for student comfort. The 2 seat Cessna's are reasonably snug and larger aircraft are available for comfort but at extra cost. Please call for advice. Please note that aviation flight times are recorded from when the aircraft park brakes are released to when they are reapplied.
To request a gift voucher or book a trial lesson call 07971 172408 or 01580 893313.
Headcorn is open all year round however, if the weather on the day of your trial lesson is very windy and or rainy please call flight operations before setting out on 01622 891539 between 9am and 5pm. If your flight is booked 9am please call 07971 172408 just before you're about to leave to check the situation. If the evening before the weather is forecast looks marginal please also feel free to ring and we'll form a plan.